Specifications
| | | | | |
| --- | --- | --- | --- | --- |
| Size | Fine Metal Content | Diameter | Weight | Fineness |
| 1 oz | 99.999% fine gold | 30 mm | 31.11 gm | .99999 fine gold |
Call Of the Wild Series from The Royal Canadian Mint continues for 2019 with the Moose. This is the sixth release in this highly desirable bullion series that is struck in 99.999% fine gold.
DEALERS – Call the trading room for availability at 800.375.4653 or login to FizTrade.com.
The "Call of the Wild" Series is struck to the Royal Canadian Mint's exacting standards in 99.999% pure gold, that's the world's highest standard of gold. Each coin depicts a different majestic and iconic animal from Canada's wilderness in mid-vocalization.
The 2019 Moose design was created by artist Pierre Leduc. The Moose has long been one of Canada's most popular and iconic symbols. Male moose weigh an average of 1,300 pounds. The huge antler rack is shed and regrown each year and can reach up to five feet across. With this phenomenally speedy regrowth, it's not surprising to hear that the moose is believed to have the fasted bone growth rate of any animal on the planet.
Each coin includes the same security features that the Royal Canadian Mint has developed for its respected bullion. This includes: a micro-engraved maple leaf laser mark in the coin's field that has the numeral "19", denoting the coin's year of issue that is visible under magnification.
All Call of the Wild coins are distributed in unique credit-card sized packaging that includes an assay certificate on the back of the card certifies the authenticity and purity of the coin, that is signed by the RCM's Chief Assayer.
Call of the Wild Coins Prior to 2019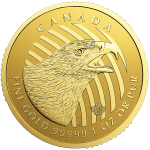 The 2018 version of the coin featured a profile of a Golden Eagle's head. This Eagle is one of Canada's largest birds of prey. Its name is derived from its glossy feathers that shine as it swoops and soars in the skies over open country.
For 2017, the RCM featured the Elk, in 2016 it was the Roaring Grizzly, the Growling Cougar graced the 2015 coin and the Howling Wolf was seen on the inaugural 2014 mintage.