Bullion You Can Wear
This highly-portable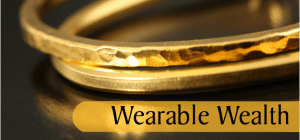 store of wealth, bullion you can wear was created by international precious metals leader, Dillon Gage.
This 24kt "wearable bullion" comes with a lifetime "renewal" guarantee which means that for the life of the product Dillon Gage will reshape and refinish the product to restore its original beauty and style.
To order, click here to visit FizTrade.com.
Details
Each bracelet is one troy ounce of 999.9 fine gold (24k)
Sealed in a tamper-evident package for security
Manufactured in the United States
Perfect for gift giving or investing
Two styles available – smooth or hammered
Handmade for individuality
Suitable for a man or woman
Dimensions
6 cm x 7 cm outer diameter
.5 cm thick
Visible Security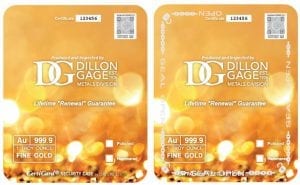 The tamper-evident packaging is shown in the two images on the right. The first image shows the unopened package. The second image shows a package that has been opened. To view this, please click the images to enlarge. Visible around the edge is wording that shows "SEAL OPEN."