Swiss Watches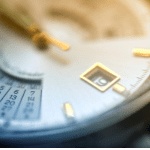 The precision and craftsmanship of Swiss watchmakers has inspired respectthrough the centuries. Their work has produced time pieces that are desired for much more than their practical value. Dillon Gage understands. We know that a cared-for watch can easily have a lifetime that spans generations.
That's why we take their resale so seriously.
We deal with both new and pre-owned watches and are the highest cash buyer of Rolex*, Patek Philippe, Cartier and other fine watches. At Dillon Gage each watch is completely reconditioned before we put it back onto the market. Each watch comes with a full one-year warranty from Dillon Gage and our watchmakers completely detail each piece including:
Cleaning
Refinishing
Adjusting the movement
New gaskets and crystals**
Waterproofing each watch**
Call today at (800) 375-4653 for an inventory of our current stock.
*Dillon Gage Inc. of Dallas is not affiliated with Rolex U.S.A.
**As needed