Jewelry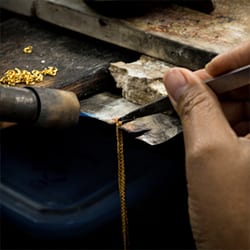 Dillon Gage adheres to strict processes and procedures when handling material from jewelers or jewelry manufacturers. We understand that whether you send in high grade karat scrap or jewelers' bench sweeps and carpets that you expect and deserve a quick melt and assay with accurate results. Our refinery is an LBMA Associate and has been a pillar in the industry for over 20 years.
Time is money. In most cases, we can process your lot within 24 hours so that your capital is not tied up any longer than necessary. We swiftly refine the lots and provide quick payment in a form that matches our customers' needs from internationally-recognized bullion to bank wires. We are committed to providing the best customer service in the industry and believe that fast and accurate results help you achieve your return on investment. As proud members of the Responsible Jewellery Council and the Jewelers Board of Trade, we cater to jewelers and manufacturers and can process all forms of high- and low-grade materials.
Karat Scrap
Buffing Wheels
Bench Sweeps
Filters
Carpets
Stone Removal
Diamond Buying
Casting Sprues
All the steps performed at our facility in Dallas, Texas. Your material is never sent to secondary facility. We are not middlemen. With Dillon Gage, you are never in doubt where your possessions are or who is handling them. Security and respect for your valuables is a cornerstone of our refinery.
We are more than just a refinery. We provide services across all channels of the precious metals industry with advanced technology as the foundation to improve our customers' experience from start to finish. Our online refining portal, FizRefinery is just one example of the advantages our customers have at their fingertips.
Contact us today at 888-436-3489 and let Dillon Gage recover your precious metals with the speed and accuracy you need in today's dynamic marketplace.