Bullion Dealers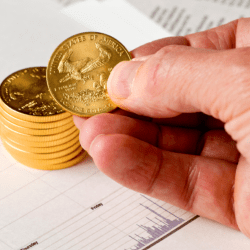 Precious metals bullion dealers are often involved in a variety of transactions, beyond coins. For instance, a dealer's customer may wish to sell a diamond ring so that they can purchase a gold American Eagle. Successful dealers have a vast knowledge of everything that touches the precious metals industry including jewelry, scrap buying and rare coins. Successful bullion dealers also know Dillon Gage refinery is the best choice for liquidating these items quickly and at top value. We swiftly turn karat scrap to cash in 24 hours and payment can be taken in a variety of forms: bullion coins from our trading desk, bank wire, or check. Our on-staff diamond experts are ready to purchase stones from the smallest melee up to large diamonds. Pool accounts are also available to you. In volatile markets, cash is king. Quick settlement from Dillon Gage can help keep your cash flow moving.
No other refinery has the strength, service and diversity to serve the needs of bullion dealers. Every step in the refining process is performed at our facility in Dallas, Texas. Your material is never sent to a secondary facility. We are not middlemen. With Dillon Gage, you are never in doubt where your possessions are or who is handling them. Security and respect for your valuables is a cornerstone of our refinery.
In most cases, your lot is fully processed within 24 hours and payment can then be sent to you in the form of a check, bank wire or bullion bars/coins from internationally-recognized mints.
Contact us today at 888-436-3489 and let Dillon Gage recover your precious metals with the speed and accuracy you need in today's dynamic marketplace.