Specifications
| | | | | |
| --- | --- | --- | --- | --- |
| Size | Fine Metal Content | Diameter | Weight | Fineness |
| 1 oz | .999 fine silver | 40 mm | 31.1 g | 99.9% fine silver |
This South Korean Silver medal design from KOMSCO is the 2nd in the Zi:Sin series, "Canis." This 1 ounce bullion is .999 fine silver with limited mintage.
DEALERS – Call the trading room to order 800.375.4653 or login to FizTrade.com.
The reverse of this medal depicts Canis, the loyal and reliable guide of the guardians, in his battle armor.
The obverse features the design of Do ggae bi, which is shown on all of the South Korean Chiwoo Medals. This grotesque face of Do ggae bi was on Chiwoo Cheonwang's shield and has been used by Koreans for centuries to ward off evil spirits.
Zi:Sin
The first design in the Zi:Sin Series was released in 2017 and depicted Gallus, one of the Twelve Guardians of Korean mythology that guards the West.
ZI:SIN are the Twelve Guardians assigned to protect the twelve directions.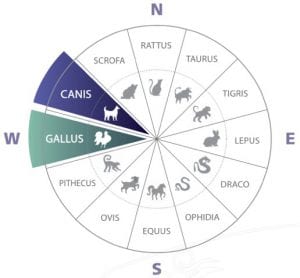 Whenever a guardian is on duty, they are responsible for wiping out the demons or cleansing the plague. The ZI:SIN are commanders of god's army, who roam battle, using their mystical talents to scare off demons from entering into our world. Although they are seen in human form, their armor depicts their animal nature and each has a sacred weapon.
12 Guardians
The Lunar Calendar is the basis of Korean life in the past and to this day. So, many aspects of life are divided into 12 parts and each of those parts have a "guardian." This includes years (the "zodiac"), the hours of the day (e.g., 5 a.m. and 7 a.m. is "Myosi" (Time of the Rabbit), and 1 p.m. and 3 p.m. is "Misi" (Time of the Sheep) and the directions of the compass which are depicted in these medals as described above.
Collectively, the twelve animal guardian deities are known as the Sibijisin, ("Twelve (sibi) gods of the earth (jisin)"). The 12 are: Rat (aka Mouse), Ox (aka Cow, Bull, Buffalo), Tiger, Rabbit, Dragon, Snake, Horse, Sheep (Ram or Goat also), Monkey, Rooster (aka Chicken), Dog and Pig.
KOMSCO SILVER CHIWOO MEDALS
In 2016, KOMSCO, introduced the 1 oz Silver Chiwoo Cheonwang Medal. The bullion was immediately popular. Only 30,000 of these medals were produced with just 50% of that available outside of South Korea.
As a follow up, KOMSCO introduced a new design for the 2017 Proof Silver and Gold medals showing Chiwoo Cheonwang on horseback as the tribal hero.
While little known in America, Chiwoo Cheonwang is a legendary figure in China and Korea, in line with Arthur or Charlemagne. His fame grew out of his battles against the man who would become the Yellow Emperor. He is also recognized as: one of the three founding fathers of China and the 14th head of Shinshi, the first Korean state. His martial exploits even earned him worship as the God of War.
KOMSCO was established in 1951 as the sole manufacturer of Korea currency.