Hello Singapore!
Dillon Gage Asia extends and strengthens our services in Asia. While Dillon Gage has been trading in the region for years, our Singapore-based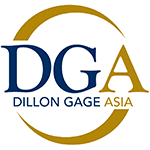 office further serves our customers in the buying, selling and trading of physical precious metals on a global stage.
Establishing a Dillon Gage trading office in Singapore was a logical step for us as a wholesaler trading company. Our existing business coupled with the current level of market activity, institutional investor interest and momentum all favor Singapore as a vital precious metals hub on the future global stage.
With this strategic expansion, Dillon Gage Asia is now poised to increase our global footprint in a burgeoning precious metals market area. To continue providing expedited delivery in the immediate region, Dillon Gage Asia plans to supply and maintain locally-based inventory of highly desirable product lines such as silver and gold Canadian Maple Leafs, gold bars in varying sizes along with a selection of pure silver hallmarked bars which are LBMA approved. Trading is open 24/5 on the revolutionary electronic trading platform, FizTrade.com which can be accessed from a desktop browser or iPhone and Android mobile devices. From this platform dealers can:
access real-time bid/ask prices on thousands of physical precious metal products,
view transaction history,
track shipments,
manage your retail store pricing,
schedule alerts and much more.
New Dealers may
open a trading account here
. Products will be available for pick up or storage at Malca-Amit Singapore Pte Ltd. Inventory can also be delivered directly to dealer locations or other vaults. In recent years, the Southeast Asian city-state of Singapore has been transitioning into a global gold hub, challenging the previous dominance of traditional locales such as London and Switzerland.
Thom McMahon has been appointed Chief Executive Officer of Dillon Gage Asia and can be reached at: +65 91690305 30 Cecil Street, Level 27, Prudential Tower, Singapore, 049712