IRAConnect™ – The IRA Solution Center
IRA Connect is the industry's first website that allows dealers, advisers and banks the ability to satisfy the needs of their retirement investors.  Users now have a trusted partner to assist in the highly desired IRA business by making it easier than ever.
Dillon Gage connects institutional clients and private investors with the most popular IRA-eligible products through IRAConnect.com.
The desktop and mobile-friendly site will simplify the process by identifying allowable products, facilitating the entire transaction and organizing the flow of money. IRAConnect.com will allow you to: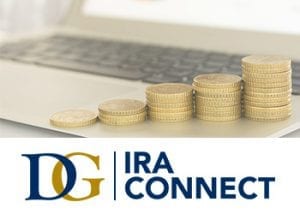 Establish your premiums for your customers on each transaction
Print receipts for yourself and your customers on the spot
Expedite shipment of metal to your client's IRA account
Move funds quickly from custodians
Register for updates and get a demo of the site by calling our Dedicated IRAConnect.com Hotline – 888.219.8179