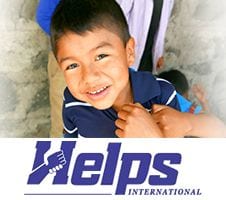 Since it began in 1984, HELPS International has brought smiles to the faces of millions of millions of people in need as well as the organization's volunteers. Now you can join in the smiles, with a few clicks on your Amazon account, just in time for Prime Day.
Dillon Gage is very proud of its connection to HELPS International, our philanthropic focus, which was founded by Dillon Gage CEO Steve Miller in 1984.
How to Select your Amazon Smile Charity
Amazon has provided a simple way for its customers to help recognized charities. The will donate 0.5% of the price of your eligible AmazonSmile purchases to the charitable organization of your choice and it doesn't cost you a penny! To take advantage of this offer, you must simply make your purchases via https://smile.amazon.com.
To select HELPS International as your chosen charity:
Sign in to your account via https://smile.amazon.com
Click on "Account and Lists" from the right hand navigation
Choose Your Amazon Smile and enter the full name: "HELPS International Incorporated" in the search window.
Then click on the select button next to HELPS International Incorporated (shown at right)
The Story of HELPS
HELPS grew out of a trip to Guatemala's by Steve Miller, Dillon Gage's CEO, in 1981. During the height of that Central American country's internal conflict, the Guatemalan government invited private groups from the United States to tour their country in hopes of bringing aid to poverty-stricken areas.
"We got there and saw the tremendous suffering," said Mr. Miller, "and I thought, 'I've got to do something. I don't know what, but I've got to do something.'"
Initially, Steve teamed up with missionary Paul Townsend and started bringing food, clothing and blankets to communities he had visited. Next, they began building homes for widows of the war, some of whom had resorted to living in hollowed out spaces they dug in the sides of the hills. Eventually, this outreach led to the creation of HELPS, which registered as a nonprofit in 1984.
Today, HELPS is a community of thousands of loyal volunteers and donors who have changed millions of lives. Steve continues as our president, though he has never taken a salary. "We say, 'The life you change may be your own,' and that's not just a saying. It's my own experience and the experience of so many of our volunteers," Steve says.
"We tell ourselves that if we have the new house, the new car, the new clothes, we're going to be happy. But those things aren't what brings us happiness. What brings us happiness is service."
And that happiness translates to thousands of smiles. Won't you join us.
For more information, visit HelpsInternational.org,