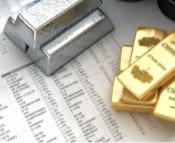 Precious Metals Veteran Brings Extensive Trading Knowledge
ADDISON, TX (Aug. 25, 2016) – Dillon Gage Metals, an international precious metals wholesaler, has announced that industry veteran Michael Kramer has joined the company, effective immediately. Kramer will have a primary focus on working with wholesale accounts, many of whom have already traded with him for decades.
Kramer spent his entire 37-year career in the precious metals industry with Manfra, Tordella and Brooks (MTB). What began on the ground floor of their retail department led to a successful multi-decade journey through their precious metals trading ranks, eventually becoming president of the organization.

"The addition of a precious metals industry veteran of Michael Kramer's caliber to the Dillon Gage Metals team is invaluable," stated Terry Hanlon, president of Dillon Gage Metals. "Michael brings extensive trading knowledge and priceless industry relationships to our organization. He will undoubtedly contribute to Dillon Gage's unparalleled service standards our customers have come to rely on."
"I've spent my entire career in the industry and Dillon Gage Metals' reputation in the metals business is formidable," said Kramer. "I am honored to join their elite organization and remain confident that the contributions we'll make together will greatly benefit the existing and future customer bases of the company."
For more information, please visit www.dillongage.com or call (800) 375-4653
# # #
Contact:
Jeffrey Cheatham
Senior Account Manager
TrizCom PR
(972) 247-1369
jeffc@trizcom.com