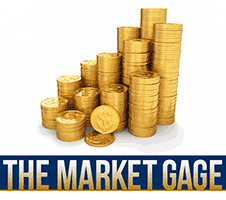 The U.S. dollar on the rise once again keeping the price of Gold under the $1,200 dollar level. ETF Gold holdings virtually unchanged this week, but they have liquidated around seven tons since the start of the month, after selling 41 tons in August. So far this year, ETF investors were net sellers of over 84 tons of Gold.
All eyes on the Feds decision on interest rates to be released at 2 pm EDT today.
Baked into the market is the expectation that the Feds will raise interest rates for the third time this year. Even though a rate hike is a sure thing, the news could still be a negative for the price of gold, as higher interest rates can boost the U.S. dollar and put continued pressure on the yellow metal.
Short term, many traders expect the continued pressure on gold, but there are many gold traders who are quick to point out factors that in the coming months can give the price of Gold a huge boost.
First, the trade war, which if continued, can be very inflationary. Next the mid-term election results could cause havoc on the President's economic agenda, causing the stock market to decline. And last, the country's debt and runaway government spending will have to be addressed sooner rather than later and could affect the price of Gold going forward.
Meanwhile, in a market that has attracted a lot of interest of late, the price of Palladium has reached a high not seen since last February this year, settling at $1,053.80 an ounce in the December futures contract. It's up ten sessions in a row and continuing to climb as Palladium is still in short supply.
Tech Horizons – 5G Technology
The FCC will vote today on 5G infrastructure plans. 5G systems include higher data rate, energy saving targets and cost reductions.
The speed of 5G data between two devices will be down to a 50th of a second which means you will have instantaneous communications.
As whether its healthcare for an example, with a doctor using a robotic arm a half a world away doing surgery on a patient in a different location or a young kid playing a game interacting with another kid instantaneously thousand miles away, the new 5 G systems will be 50 times faster than your current 4 G system. It will not matter much in conversations, but in videos you will see a giant difference.
This new 5G technology will help the military in a huge way by being able to operate their equipment like drones, cameras and other devices in real time eliminating the need to have military personnel in harm's way.
This 5g infrastructure platform is a game changer and reminds me of all the incredible things the new Blockchain platforms will achieve.
We expect this technology to be released next year, because there has to be many more towers built and put in service before it can go live.
Before you go, let me give you some detailed information how the 5G network will work and how it will enhance your business in the future.
Up until now, network coverage strategies were optimized for one primary use: people with smartphones, moving around.
But in a world where every milk carton, motorcycle, park bench has a sensor and a transmitter, coverage presents a different range of challenges.
Today, all of us have experienced places, even in cities, where mobile phones have no connection. Or really slow response times when you do have a connection. With 5G, you will be running a service that delivers signals to moving targets at greater speed. In other words cell users on the move. What happens when the network can't reach your vehicles or your customers, even for a moment? You lose business.
So the 5G network, when installed, will rise to new coverage challenges by combining new technologies in new ways. Smaller antennae in massive arrays will make a single base station act like many. Beamforming techniques will focus data streams at specific users, tracking them as they move.
The bottom line: The coverage benefits that 5G delivers will extend the power of the network to far more users, devices, and connected vehicles. So think about what happens if your IT implementation can manage a million more devices than your biggest competitor's. On the surface it's just more sensors. But once you start capturing all that data and feeding it to your algorithm, you'll be generating better answers to your customers problems faster than ever before.
Sounds exciting? It sure is!
Have a wonderful Wednesday.
Disclaimer: This editorial has been prepared by Walter Pehowich of Dillon Gage Metals for information and thought-provoking purposes only and does not purport to predict or forecast actual results. This editorial opinion is not to be construed as investment advice or as a recommendation regarding any particular security, commodity or course of action. Opinions expressed herein cannot be attributable to Dillon Gage. Reasonable people may disagree about the events discussed or opinions expressed herein. In the event any of the assumptions used herein do not come to fruition, results are likely to vary substantially. It is not a solicitation or advice to make any exchange in commodities, securities or other financial instruments. No part of this editorial may be reproduced in any manner, in whole or in part, without the prior written permission of Dillon Gage Metals. Dillon Gage Metals shall not have any liability for any damages of any kind whatsoever relating to this editorial. You should consult your advisers with respect to these areas. By posting this editorial, you acknowledge, understand and accept this disclaimer.