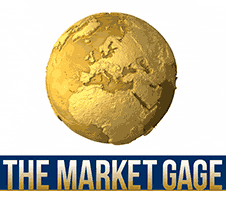 The Euro, Sterling and Yen all lower this morning giving a boost to the U.S. Dollar, which in turn, puts pressure on the price of Gold.
A successful outcome in the Brexit negotiations continues to be in doubt as Brussels already told Prime Minister Theresa May that there is no room for negotiation. Nonetheless, with her political career on the line, she is determined to go across the EU to try to drum up some support. One third of her own party gave her a vote of no confidence. The sharks are circling around Parliament, so in fast order she needs to come up with a plan that will be accepted by all parties. But there is only a small chance of that happening.
There is so much news to digest these days, causing wild swings in the Equity markets. When any significant news is released Algorithm programs take over the Equity markets and create wild volatility. The financial advisors I spoke with this morning said that, for the most part, the majority of their clients are not panicking, but holding on to the stocks they have.
If the dollar index closes today where it is trading at 97.65, this will be a new fresh high from the summer of 2017 and not good news for the price of Gold.
The Wall Street Gold traders I keep in touch with indicated that they all are out of the Gold market at this time, after being long from the $1,232 spot level and cashing out for the most part around the $1,240 level in spot, as the U S Dollar was seen gaining momentum.
Retail sales in autos are up .2 percent and holiday sales are robust, but with geopolitical risks making headlines everyday, no one knows for sure what direction the markets are
headed.
With China's economy slowing, along with Germany and parts of the EU, one would expect
increased interest in the Gold market, but with the Dollar being so strong due to investor interest in the U.S., it's going to take a major news story to bring the price of Gold back in favor with investors.
Silver, Platinum and Palladium are acting as industrial metals today as the Equity markets continue their sell off.
Fresh new 2018 highs in the Palladium market has given the short term investors reason to take some profits off the table. At the time of this report spot Palladium was down $34 dollars. Nonetheless, the lack of supplies still dominates the spot market, as the current EFP is quoted minus 75 minus 65.
The Future of Blockchain & Precious Metals
It seems that Blockchain applications are evolving on a daily basis. We all know that Blockchain programs power cryptocurrencies, but they also have thousands of other applications.
First…The Basics
If you've been reading these posts, you probably know this, but here's a brief refresher.
The Blockchain platform is an open and distributed ledger. It uses an "append-only data structure," meaning new transactions and data can be added on to a Blockchain, without having the ability to erase any past data. The results are in a verifiable, permanent data base and recorded transactions between two or more parties. The network has the potential to increase transparency and accountability, and positively enhance our social and economic systems.
A Blockchain is a software program linking several nodes together. The Blockchain is not one global entity, like the internet. Imagine a network of connected computers inside a highly secure office, which are connected to each other, but not to the internet.
Applications are endless. Institutions and banks are building their own internal Blockchain programs with their own features for various organizational purposes.
Blockchain technology will change the way we write contracts, execute transactions and maintain records. Keeping records of transactions is a core function of all businesses. These records are meant to track past performance and help with forecasting and planning for the future. Most organizations' records take a lot of time and effort to create, and often the creation and storage processes are prone to errors.
Precious Metals Applications
The future of executing Physical Precious Metal transactions is wrapped up in Blockchain Technology. Since Blockchain transactions can be executed immediately, they offer an easy, fast and economical way to buy and sell physical Precious metals. With industry specific Blockchain applications, you could buy product, pay for it and get a release (let's say at a depository) all in one transaction. Then settle the trade immediately.
That means, NO wire transfer. The cost of the metal will be charged to your banking account (which is already on file) and the metal will be transferred to your account immediately at the depository.
The product that was just purchased was made available to authorized network participants that can see all available inventory for sale. But now, no one is waiting for a release of metal or of funds. It's all done instantaneously in the firm's secure Blockchain network.
When this transaction is recorded in the Blockchain, details of the transaction such as price, product and ownership, are recorded, verified and settled within seconds. A verified change of ownership on the product is simultaneously registered on all copies of the ledger. Since each transaction is transparent and permanently recorded across all ledgers, the transaction is there to be seen by anyone authorized in the network.
Such platforms will give trading, accounting and vault services instant access to each and every transaction.
Beyond Cryptocurrency transactions, these types of programs are still on the drawing board, but soon enough, Blockchain technology will change how we transact, record and verify every transaction.
For over two years there has been a half dozen startup companies who have tried to offer a Blockchain Platform to the Precious Metals Industry (and Dillon Gage have been a volunteer advisor for some). The problem facing a lot of these startups is, after spending a lot of funding to develop a Blockchain program tailored to physical Precious Metals, they found it difficult to recoup the initial costs and monetize it going forward. Charging fees for each transaction became an issue for most participants.
What I'm told is, the talented folks who developed these programs have now gone on to work for big banks and institutions instead of going out on their own and trying to find new investor money.
The bottom line, I'm convinced the future includes Blockchain in the Precious Metals arena, it's just a matter of time before developers conquer the ROI hurdle.
Have a wonderful Friday.
Disclaimer: This editorial has been prepared by Walter Pehowich of Dillon Gage Metals for information and thought-provoking purposes only and does not purport to predict or forecast actual results. This editorial opinion is not to be construed as investment advice or as a recommendation regarding any particular security, commodity or course of action. Opinions expressed herein cannot be attributable to Dillon Gage. Reasonable people may disagree about the events discussed or opinions expressed herein. In the event any of the assumptions used herein do not come to fruition, results are likely to vary substantially. It is not a solicitation or advice to make any exchange in commodities, securities or other financial instruments. No part of this editorial may be reproduced in any manner, in whole or in part, without the prior written permission of Dillon Gage Metals. Dillon Gage Metals shall not have any liability for any damages of any kind whatsoever relating to this editorial. You should consult your advisers with respect to these areas. By posting this editorial, you acknowledge, understand and accept this disclaimer.