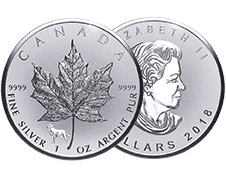 This "Year of the Dog' Bullion is Struck by the Royal Canadian Mint
ADDISON, Texas (Feb. 15, 2018) – Dillon Gage Metals, one of the world's largest precious metals wholesaler firms, is once again the exclusive source for the Royal Canadian Mint's Silver Lunar Privy bullion coin. For the past five years, Dillon Gage Metals has had the sole distribution of this unique RCM Silver Maple Leaf. The "Year of the Dog" in the Chinese Lunar Calendar officially kicks off this Friday, February 16, 2018. To honor this loyal Lunar symbol, this year's coin features an intricately engraved Labrador Retriever for the privy seal (the standard Canadian Maple Leaf privy is a smaller leaf with the year number inside).
In the most recent decades, the dog represents those born in 1922, 1934, 1946, 1958, 1970, 1982, 1994, 2006 and now 2018. Individuals born in the Year of the Dog are honest and loyal, much like their canine counterparts. In Chinese culture, if a dog happens to come to a house, it symbolizes the coming of good fortune and prosperity. This year's Lunar Privy bullion coin is the perfect gift or keepsake for those born under the Year of the Dog sign.
"The Chinese Zodiac Calendar is a very important part of traditional Chinese culture," stated Terry Hanlon, president of Dillon Gage Metals. "This exceptional limited mintage Royal Canadian Mint Silver Maple Leaf that bears a Lunar Year privy mark celebrates that heritage. This unique coin is a great gift for those who participate in Lunar New Year festivities, and it's also great for any coin collectors in your life who happen to love dogs."
The coin is crafted in the Royal Canadian Mint's exceptional 99.99 percent pure silver. It features a serrated edge and a unique reverse-proof finish. This coin is the highest denomination made available on a 1-ounce silver bullion coin – $5 CAN. Along with Canada's beloved monarch, Her Majesty Queen Elizabeth II, on the obverse and the iconic Canadian Maple leaf on the reverse. The coin is 38 millimeters in diameter and weighs 31.110 grams.
This limited-mintage special release will be available to authorized dealers from Dillon Gage. For information and pricing, call 800-375-4653 or go to www.dillongage.com to purchase on the electronic trading platform, FizTrade.com.
# # #
About Dillon Gage Metals
Dillon Gage Inc. of Dallas (DillonGage.com), founded in 1976, companies include:
Dillon Gage Metals (DillonGage.com/) one of the world's largest precious metals wholesale trading firms. The firm is an authorized purchaser for all major world mints and maintains inventory in over 20 countries around the world. Additionally, the company provides advanced tools and technologies that enable market participants to be more successful in their businesses, allowing electronic trading and offering cloud-based solutions for the physical precious metals marketplace 800-375-4653
FizTrade Online Trading (www.FizTrade.com) offers real-time bid/ask trading platform for gold, silver, platinum and palladium. 800-375-4653
Dillon Gage Refining (dillongage.com/precious-metals-refining/), professional assayers and refiners of precious metal scrap, from low grade to karat scrap. Stone removal services and diamond experts on staff. 888-436-3489
International Depository Services Group with locations in Texas, USA (www.idsofTX.com; 888-322-2431), Delaware, USA (www.ids-delaware.com; 888-322-2431), and Ontario, Canada (www.idsofcanada.com; 855-362-2431), offers secure, efficient and insured precious metals and certified coin depositories that focus of custom business logistics solutions which include storage, fulfillment, inventory managements and many other value-added services.
Contact:
Jo Trizila
TrizCom PR
(972) 247-1369
Jo@trizcom.com