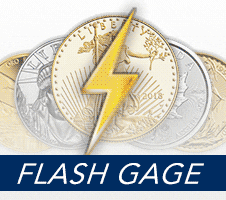 Here are the headlines coming out of the Fed Meeting that ended today:
Fed raises interest rates quarter percent
Fed lowered 2019 forecast to 2 hikes instead of 3
Fed funds rate to stay above neutral in 2020 and 2021, but everyone's trying to figure out what neutral is.
Economic activity rising at a strong pace
Fed lowers 2018 inflation forecast to 1.9 percent.
The price of Gold reacted negatively to the news and declined $8 dollars an ounce after the release.
Wall Street Gold traders are calling the reduction of just one rate hike next year "Hawish" as they were expecting a pause in rates in the statement from the Fed.
Overall, not what the market expected, as Equity prices decline and so do Treasury Yields.
In other words the markets are not sure what this all means.
We now await comments from the Fed Chairman.
Enjoy the rest of your day.