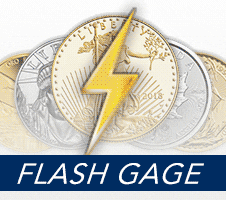 What a difference a day makes. Yesterday, the U.S. Dollar was trading at a 16 month high. Today we see the U S Dollar Index reversing course and heading lower as other major world currencies recover from their lows yesterday.
Equites still in rally mode as we all await the results of the midterm elections next week.
Technical levels still in place and unless some unexpected news hits the wires we expect the price of spot gold to continue to be range bound from $1,215 to $1,235.
The price of Platinum seems to be recovering as news from Impala South Africa says it will cut its future production by 30 percent over the next two years. Slowing Diesel car sales continue to be a contributing factor.
Less supply can bring higher Platinum prices, but the news still seems to be negative for the Platinum market which is keeping Hedge Fund investment on the side lines at this time.
Have a wonderful Thursday.