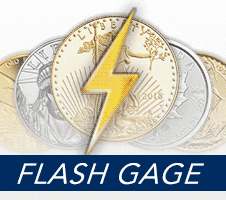 The price of Gold rallies and Equities decline after U.S. Treasury Secretary tweets he's not going to the Saudi Arabia business conference.
Investors turn to Bonds and Gold off the news.
Even with this Geopolitical news, the price of spot Gold still has to settle over the 100 day moving average at $1,229 to get the next leg up on the price.
Historically, these types of news stories only create a knee jerk reaction in the market and usually don't create a new leg up in the price of Gold.
In other words, I don't expect much from this story after the news is absorbed into the market. So I expect
the price of Gold to soften up a bit as the day goes on.
Have a wonderful Thursday.