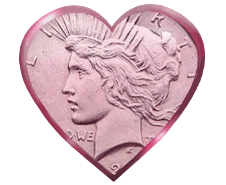 In 1921, a young bride inspired her husband's design for America's Peace Silver Dollar, which would be the last actual "silver" dollar produced.
She was born Mary Teresa Cafarelli in a town south of Naples, Italy. When she was four years old, she and her mother emigrated to the United States. There's a charming story that was repeated in the early years of the coin's release. The tale goes that when she was aboard the tall ship that brought her to America's shores, she first saw the Statue of Liberty. The stately beauty of "Liberty" prompted her to strike a similar pose on the ship's deck, foreshadowing her portrait on the dollar. In an interview with COINage's Ed Reiter, she cast a doubt on this account, but admitted it made good reading.
"Considering how young I was, I don't really think it could be true," she said. "But somebody wrote that once, to make the story sound more interesting, I suppose – and you know how things like that come to be accepted as fact. It does make an interesting story.
"Later," she added, "I was, of course, impressed by that statue. I think it's a wonderful statue, and I think it means a great deal to almost everyone who has come over here from another country. And I've been very grateful to this country all my life."
She was raised in Clinton, Massachusetts and married Anthony de Francisci in 1920, who was also an Italian immigrant.
In 1921, the United States Commission of Fine Arts held a contest in order to determine who would design the new silver dollar that was to be issued as a commemorative of peace and the end of World War I. Eight sculptors were invited to compete and Anthony de Francisci was eventually chosen. As winner of the contest, de Francisci was awarded $1,500.
Due to time the coin's fast-tracked deadline, de Francisci was unable to schedule a professional model to pose for the obverse depiction of "Liberty." Instead, he opted to use his wife as his muse, since she fulfilled his vision of a younger "Liberty" than those depicted on earlier American coins. In describing his technique, he stated "I opened a window of my studio and let the wind blow on her hair while she was posing for me."
The sculptor later stated that though his wife was the model for the coin, he did not create an exact likeness. In remarks published by the Minneapolis Tribune in 1922, de Francisci states that "it is a composite face and in that way typifies something of America." The coin officially went into production on December 29, 1921 and was minted yearly from 1921 to 1928, and again in 1934 and 1935.
The Peace dollar serves as a lovely tribute to not only the love between De Francisci and his newlywed muse and the love of these two immigrants for their adoptive country but America's love and yearning for peace.
On the 50th anniversary of the Peace Dollar, Mrs. De Francisci was honored by numismatists with a plaque inscribed, "To a Lady of Peace."
Anthony de Francisci died on October 20, 1964. Terese de Francisci died exactly 26 years later, on October 20, 1990, at the age of 92.