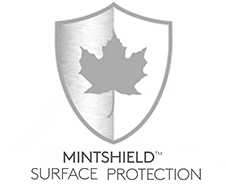 White spots on silver bullion coins have been a known issue in the global bullion market for years. While white spots do not change the purity or composition of bullion coins, investors have expressed concerns about their impact on the coins' aesthetic quality — a fact that presented a challenge for the R&D and engineering teams at the Royal Canadian Mint.
Determined to get to the bottom of the elusive white spot problem, the Mint engaged in a four-year process of research and exploration that culminated in 2018 with the announcement of MINTSHIELDTM surface protection, the first proven, proprietary solution for significantly reducing the occurrence of white spots.
You can download and print RCM's technical sheet here.
In a recent DNA Newsletter from RCM, Dr. Xianyao Li, their Chief Technology Officer, answered questions on this new process:
BULLION DNA NEWSLETTER (BDN): The investigation took four years, is that right? What was involved?
DR. LI: Yes, about four years. We used all the technology at our disposal—image analysis system, x-ray spectroscopy for compositional analyses, surface microstructure and morphology examinations—to look at every possible factor that might contribute to the formation of white spots.
BDN: What did you discover?
DR. LI: We realized there is no single cause of white spots. Many things have an impact, including how silver reacts with contaminants in processing, handling and storage. This makes it challenging to come up with a single, definitive solution, but with MINTSHIELD we've found a way to significantly reduce and contain white spots.
BDN: What's the plan for MINTSHIELD?
DR. LI: Every Silver Maple Leaf bullion coin dated 2018 and later will be protected with MINTSHIELD, which we've confirmed significantly reduces the occurrence of white spots for years.