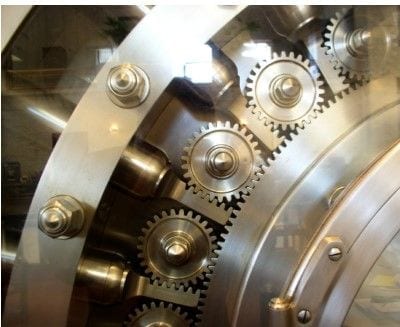 Making the decision to move your physical precious metals out of your house or safe deposit box can be a big decision. Many investors are used to having their assets available for quick access. However, many do not know that both of these arrangements are risky. Storing in your home leads to personal safety issues. Storing in a bank's safe deposit box does not provide insurance coverage in the event of a loss. In fact, some companies like Chase Manhattan Bank prohibit the storage of non-collectible precious metal items in clients' safe deposit boxes. Another issue is the size of your holdings – while gold does not require a lot of physical space, silver holdings become a logistical issue due to its weight and size and difficulties with transportation.
One alternative – that offers full insurance and expert security is a private storage vault. Indeed, many institutional investors take advantage of this option due to security, ease of access and market place trading availability without incurring ancillary charges of transportation. Before selecting a private depository make sure you have answers to the following: How long has the depository been in business?
Is it approved as a facility by the LBMA (London Bullion Market Association) or an Exchange – such as the Intercontinental Exchange (ICE) or the COMEX?
Does the Depository have 24-hour, off-site monitored security?
IS the facility a UL-rated Class III Vault?
Are the assets insured against loss?
Are the assets held off the company's balance sheet?
How quickly can I take delivery, audit, or have my assets shipped to me?
International Depository Services Group that offers two locations (in the US and in Canada) has a fully monitored, multi-redundant security system, with Class III UL-rated vault and is LBMA approved in both countries. Customer assets are stored off balance sheet and are fully insured through a policy underwritten by the world's leading insurance provider. IDS is also approved by the Exchange and can issue electronic warrants against Eligible precious metal. Customers can have their inventory shipped or pick up the assets within 24 hours of making the request. This is the fastest in the industry.   IDS also offers VaultDirect™ – immediate online access to inventory management and transactional activities – offering its client's the transparency that no other depository can match.
If you have additional questions about storing your precious metals in a secure facility in the United States or Canada, please call 888-322-6150 or email info@IDS-Delaware.com