Specifications
| | | | | |
| --- | --- | --- | --- | --- |
| Size | Fine Metal Content | Diameter | Weight | Fineness |
| 1 oz | 1 troy oz. | 40.60 mm | 1 troy oz | .999 silver |
The Silver American Eagle 2021 mintage is available for pre-order now. This classic coin is one of the cornerstones of the U.S. Mint's bullion program.
DEALERS!: Call the trading room to order 800.375.4653 or login to FizTrade.com
The Silver American Eagle 2021 mintage will actually feature two different reverse sides. The updated reverse is scheduled to be issued mid-year
The Silver Eagle was first struck by the U.S Mint in 1986.
It derives its name from the heraldic eagle of the United States which is depicted on the coin's reverse. This eagle has been on American coins since 1794, although the one seen on the current Eagle is an updated design by John Mercanti, who was the United States Mint's Chief Engraver from 1986 until 2010.
The 2021 reverse features an eagle coming to land on a nest. It was designed by AIP artist Emily Damstra and sculpted by Mint medallic artist Michael Gaudioso.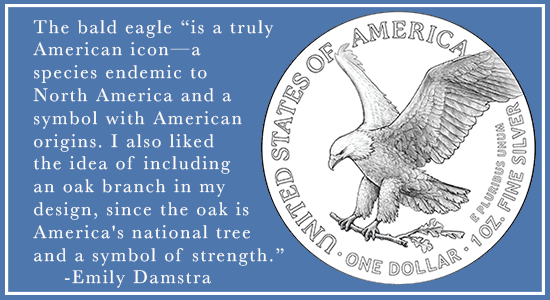 The obverse of the American Silver Eagle coins features a gowned lady is affectionately called the Walking Liberty. She originally appeared from 1916 to 1947 on the Walking Liberty Half Dollar. She was sculpted in 1916 by Adolph A. Weinman and is considered one of America's most beautiful coin designs.
The American Silver Eagle is Precious Metals IRA eligible.