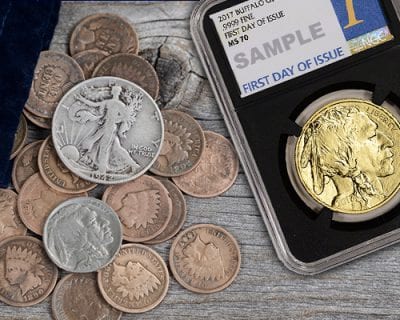 Rare coin condition ratings are established and followed in the numismatic industry. The following are the terms used to describe the condition of rare coins and facilitate numismatic trading:
Proof A specially-made coin distinguished by sharpness of detail and usually with a brilliant mirror-like surface. Proof refers to the method of manufacture and is not a condition, but normally the term implies perfect mint state unless otherwise noted and graded as below.
Mint State The terms Mint State (MS) and Uncirculated (Unc.) are interchangeably used to describe coins showing no trace of wear. Such coins may vary to some degree because of blemishes, toning or slight imperfections as described in the following subdivisions.
Perfect Uncirculated (MS-70) A Perfect new condition, showing no trace of wear. The finest quality possible with no evidence of scratches, handling or contact with other coins. Very few regular issue coins are ever found in this condition.
Choice Uncirculated (MS-65) An above average Uncirculated coin which may be brilliant or lightly toned and has very few contact marks on the surface or rim. MS-67 or MS-63 indicates a slightly higher or lower grade of preservation.
Uncirculated (MS-60) Has no trace of wear but may show a number of contact marks and surface may be spotted or lack some luster.
About Uncirculated (AU-50) Has traces of light wear on many of the high points. At least half of the mint luster is still present.
Choice Extremely Fine (EF-45) Light overall wear shows on highest points. All design details are very sharp. Some of the mint luster is evident.
Extremely Fine (EF-40) Design is lightly worn throughout, but all features are sharp and well defined. Traces of luster may show.
Choice Very Fine (VF-30) Light even wear on the surface and the highest parts of the design. All lettering and major features are sharp.
Very Fine (VF-20) Shows moderate wear on high points of design. All major details are clear.
Fine (F-12) Moderate to considerable even wear. Entire design is bold with overall pleasing appearance.
Very Good (VG-8) Well worn with main features clear and bold although rather flat.
Good (G-4) Heavily worn with design visible but faint in areas. Many details are flat.
About Good (AG-3) Very heavily worn with portions of lettering, date and legends worn smooth. The date may be barely readable.
IMPORTANT: Damaged coins, such as those which are bent, corroded, scratches, holed, nicked, stained or mutilated, are worth less than those without defects.
Information contained in this website was obtained from sources deemed to be reliable, but no responsibility whatsoever is assumed.